Piada d'Oro was born in 1992 in a small workshop on the Riviera Romagnola. The business was founded by two friends who, together with their mothers, developed a recipe to serve the tables of hotels and restaurants in Cattolica with this typical bread from Romagna.
With the passing of time, demand for supplies of this product has grown constantly on the part of tourists (staying in hotels), taking it home with them and spreading the product outside of Romagna.
In 1996 Augusta's son together with other partners decided to found the new Piada d'Oro which over time, has maintained the same features of craftmanship and respect for tradition and culture. Twenty years in business have just passed, and in response to new market demands, alongside traditional ranges of piadina and filled piadas, we have added a new organic range and a frozen range. At present company policies at Piada d'Oro allow to safeguard product quality standards, check the genuinity of the raw materials used and follow each production stage whilst maintaining remarkable production capacity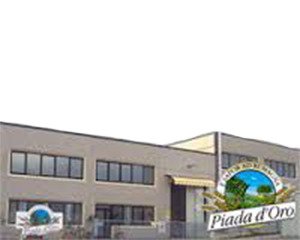 Among its clients Piada d'Oro boasts the best Italian and Foreign distribution chains , together with typical village shops while constantly gaining new clients.
Turning piadina from"the bread of the poor" to "daily bread",
is the aim pursued by Piada d'Oro a corporate policy of constant improvement.